DeSoto County history
In this article, we will take a look at historical events in and near what we today know as and DeSoto County. Even though the land is ancient and has been inhabited since time immemorial, DeSoto County as a legal entity was not established until 1887, when Manatee County was divided into DeSoto and Manatee. At this point in history, DeSoto County was larger than it is today, because in 1921, parts of DeSoto was used to form four new counties: Charlotte, Glades, Hardee, and Highlands.
The Calusas
What is now called DeSoto County used to be a part of the Calusa territory. The Calusa were a Native American people that inhabited Florida´s south-western coast, and relied largely on fishing. The heartland of the Calusas did not include DeSoto – it was more or less limited to present-day Charlotte, Lee and Collier counties, and possibly also the Florida Keys – but their sphere of influence were considerably larger than this. Notably, the political influence of the Calusa extended over several other groups in the region, including the Mayaimi who lived around Lake Okeechobee and the Tequesta and Jaega who inhabited the south-eastern coast of the peninsula.
The Calusa had a stratified society with a small ruling class and a large non-ruling class. The leadership group included the chief/king, the military leader, and the religious leader, which ruled from Mound Key, a capital located near the present-day village Estero in Lee County. According to a Spanish source from 1564, the king at the time was also the son of the religious leader, and the cousin of the military leader.
The Calusa built large, two-storey communal houses. In his 1566 report from Mound Key, Pedro Menéndez de Avilés described the king´s house in the capital as big enough to keep 2,000 people inside.
Juan Ponce de León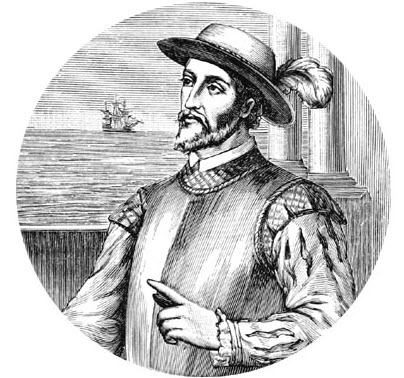 In 1513, the Spaniard Juan Ponce de León needed to have his ships repaired and maintained, and anchored in an estuary at the Florida peninsula. This was probably the estuary of the Peace River, what today is known as Charlotte Harbor. While there, the Spaniards encountered members of the Calusa people. An argument between the two groups resulted in several deaths on both sides, and the Spaniards eventually kidnapped eight Calusa; four men and four women. A final confrontation took place on 5 June, 1513, when roughly 80 Calusa warriors attacked a smaller party of Spanish sailors. After a stand-off, Juan Ponce de León and his crew set sail and left on 14 June.
In 1521, Ponce de León returned to Florida – and this time his plan was to establish a Spanish colony. He brought around 200 men with him, including farmers, artisans and priest, and also 50 horses, other domestic animals, and farming equipment. The expedition is believed to have anchored at the Peace River estuary again, but the Caloosahatchee River is another possibility
The Spaniards were attacked by the Calusa, and Ponce de León was hit by an arrow. The Spaniards fled and sailed to Cuba, where Ponce de León died of his wound. Historians now believe the arrow that struck his thigh was poisoned with sap of the manchineel tree (Hippomane mancinella).
Later explorations in the region
In 1528, the Spaniards Panfilo De Narvaez and Cabeza De Vaca went as far as present-day Arcadia, where they captured several Calusas. The Calusas told them stories about gold, and offered to lead them to hidden treasures in the north.
In 1539, the Spaniard Hernando DeSoto anchored in Charlotte Harbour and use the estuary as a base for his explorations of the nearby region. He followed the coast to present-day Manatee County, and then turned inland. Both DeSoto County and Hernando County are named after him.
The Territory of La Florida
The Spanish conquistadors had claimed the Floridian peninsula for Spain the moment they set foot on it, but it would take until 1565 before the territory of La Florida was formalized. This is when the city St. Augustin was established, and also when present-day DeSoto County formally became a part of La Florida.
Spain – Great Britain – Spain – USA
After a long period of Spanish rule, present-day DeSoto County and a lot more of the peninsula came under British rule and was declared East Florida in 1763. This period ended in 1783, when East Florida was returned to Spain.
In 1821, Florida became a U.S. Territory.
Camp Ogden – Fort Ogden
Camp Ogden was established in present-day DeSoto County in 1841, and the camp was turned into a fort that same year. The site for Fort Ogden was selected as it was expected to be of strategic importance in the fight against the Seminoles. The Second Seminole War, which had broken out in 1835, ended in 1842, at which point Fort Ogden lost its strategic importance and was abandoned
The 1870s in Fort Ogden and DeSoto County
The 1870s was an important decade for the establishing of a community in Fort Ogden and in present-day DeSoto County. Notably, DeSoto County was not created in 1887, when Manatee County was divided into Manatee County and DeSoto County.
The Joshua Creek Church and is adjacent cemetery was established in present-day DeSoto County in 1870.
The 1870s was when the Confederate war veteran and former Manatee county clerk John W. Whidden settled along Joshua Creek and established a prosperous cattle ranch there.
During the same decade, Union war veteran Robert C. Hendry settled along Joshua Creek and successfully established a cattle ranch there.
The Fort Ogden Post Office was established in 1876.
DeSoto County
As mentioned above, DeSoto County was broken out of Manatee County in 1887. In 1921, four new counties would be broken out of DeSoto:  Charlotte, Glades, Hardee, and Highlands.
DeSoto County during WWII
During World War II, the Charlstrom Field Air Base in DeSoto was used to train U.S. and British pilots.
Twenty-three British pilots died during training and are honored at the DeSoto County´s Oak Ridge Cemetery in Arcadia.
G. Pierce Wood Memorial Hospital
When WWII ended, the Charlstrom Field Air Base in DeSoto was decommissioned, sold to the State of Florida for $1 and converted into the mental health facility G. Pierce Wood Memorial Hospital. Later, the mental health patients were replaced by juvenile offenders. Today, the facility is closed.
Hurricane Charley
Hurricane Charley passed through DeSoto County on August 13, 2004, causing widespread destruction in its path.