Ziba King – pioneer settler of Fort Ogden
The military Fort Ogden in Florida was abandoned in 1842 after the end of the Second Seminole War, but white settlers who later arrived to the area reused the name for their community.
One of the settlers in Fort Ogden was Ziba King (1838-1901), who would come to have a major influence on the community. He was a shopkeeper, cattle rancher, banker, justice of the peace, real estate investor, citrus grove owner, politician, philanthropist, and renowned poker player. He became one of the most prosperous cattle owners in Florida and was a member of both the Florida Senate and the House of Representatives.
King was a Free Mason and a belonged to a Baptist Church congregation, and he was also on the local School Board. One time when the Manatee County could not pay the teachers, King used his personal gold to pay the teacher salaries for six months until funding could be allocated.
At the peak of his prosperity, King owned 50,000 head of cattle, which represented 10% of all the cattle in Florida.
When he died in 1901, King´s estate was valued at $300,000.
Ziba King Memorial Recreational Park in Fort Ogden
The grave of Ziba King is found at the King family cemetery plot, which is a part of the five-acre Ziba King Memorial Park in Fort Ogden.
The Ziba King Memorial Recreational Park – which was dedicated on November 11, 1956 – is set amidst an old urban residential neighbourhood, but the general area is rural today. The park is a community park and open to the public, and it is home to many old evergreen oaks that provide shade.
A bronze plaque on a large granite block marks the site of the King homestead.
Ziba King was from Georgia
Ziba King was born on March 12, 1838, in Ware County, Georgia.
The American Civil War broke out in 1861, and King enlisted in the Battalion of Savannah Volunteer Guards on March 4, 1864. He became a private in the Co. C Battalion of Savannah Volunteer Guards, which subsequently became Co. C, 18th Battalion Georgia Infantry. A note in his military records shows that he was absent without leave (or AWOL) since December 17, 1864.
In Ware County, King made money as a merchant, before leaving the war-torn Georgia for Florida. According to local legend, he had five dollars in his pocket when he left Georgia, and walked his way to Florida. In Florida, he worked at several jobs to save up enough money to start his own business, and he opened his dry goods store in Tampa in 1868. His stay in Tampa was to be fairly shortlived, however, as he rather quickly moved on to Fort Ogden, Manatee County, FL.
King´s early days in Fort Ogden
In Fort Ogden, King opened a general store – a business that he would keep running for some 20 years.
On July 14, 1869, there was a notice in the Florida Peninsular of Tampa stating that "Mr. Z. King and C. S. Lightsey have gone to Ft. Ogden, on Pease Creek, with a load of corn, flour &c, and will probably start a store there."
King the cattle rancher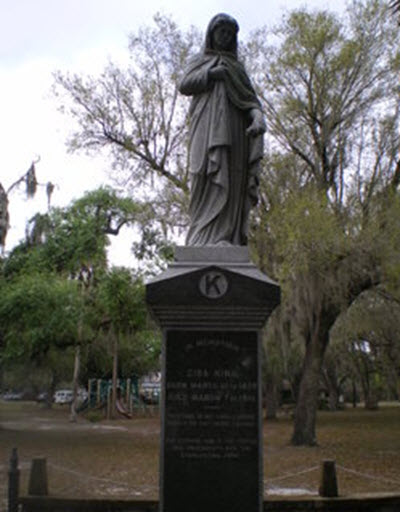 King homesteaded 160 acres in the Fort Ogden area and became a successful cattle rancher.
On February 15, 1882, Florida Daily Times reported that King (whom they called Zeba King) had 30,000 head.
The 1885 Manatee County Agricultural Schedule list King as the owner of:
40 acres of tilled land
6,000 acres of wooded and pasture land
$60,000 worth of stock
King the banker
Alongside his other ventures, King was also involved in the banking industry. He was president of the First National Bank of Arcadia, vice president and director of the Exchange Bank of Tampa, and a director of the National Bank of the State of Florida at Jacksonville.
King the judge
Manatee County records show that King was a justice of peace in 1873 – 1876.
King the politician
King became involved in politics in Fort Ogden. He initially represented the Conservative Democratic Party, but in 1888, he was elected on an Independent ticket to the State Senate from the 27th District and served in the sessions of 1889 and 1891. He was considered an old-line conservative.
In 1889, the Independent Dr. Oscar T. Stanford (who was supported by the Populists) was vacating his House seat, and King successfully ran for it against the Populist candidate Marion G. Carlton.
Move to Arcadia
In 1893, King moved from Fort Ogden to the nearby city Arcadia. Since 1887, Arcadia had been in DeSoto County, as a result of the old Manatee County being divided.
Family
Ziba King and Florida Brewer married on July 25, 1870, in Manatee County. Born on April 21, 1855, in Hamilton County, FL, she was the daughter of James and Elizabeth (Whidden) Brewer.
Ziba and Florida had 14 children, but six of them (all boys) died in their infancy.
King had six living sons and two living daughters when he died in 1901:
Nannie (b. circa 1871)
Thomas Butler King (b. 1873, d. 1954)
James Garfield King
Henry Logan King (b. 188, d. 1938)
Eugene King, Russell King (b. circa 1888)
John J. King (b. circa 1891)
Cora E. King
The six sons who died before their father were:
William Jackson King (b. March 23, 1876, d. Oct. 30, 1878)
Lloyd Ellsworth King (b. Apr. 8, 1877, d. Apr. 30, 1878)
Ziba King, Jr. (b. Nov. 29, 1878, d.?)
Benjamin Hill King (b. July 5, 1882, d. Oct. 11, 1885)
Paul King (b. Sept. 25, 1893, d. Jan. 28, 1894)
Homer R. King
Death
King died on March 7, 1901, after being ill for some time, and was buried in the King Family plot in Fort Ogden, where his six dead sons were already interred.
Here are some excerpts from the March 13, 1901, edition of the Bartow Courier-Informant. (Much of their information was obtained from the Tampa Tribune.)
"A cool, calculating man of affairs, Judge King's ruling business trait was foresight. He was not a follower of that cult which allows the morrow to take care of itself. He looked forward while others looked backwards. In this was the secret of his success, the basic foundation of his fortune."
Aftermath
Ziba King was survived by this wife, six living sons and two living daughters. His will named his wife, and his sons J.G. And T. B. King as executors of the estate.
Upon his death, King´s estate was valued at $300,000.
Was King a bigamist?
Shortly after the death of Ziba King, rumours began to circulate that he had married a young woman in Georgia before moving to Florida, and that she had bore him a child. Rumours also alleged that this woman, the now adult child, and a lawyer had come to Arcadia to contest the will.
Further investigations, carried out in Georgia by Col. John H. Treadwell, one of the attorneys for the King estate, revealed the following:
Ziba King had married a young woman in Georgia, forced by her parents. The ceremony was performed by King´s cousin Swett, who at the time was a young lawyer with no authority to perform marriage ceremonies. The woman gave birth to a daughter, who died in her infancy. Some three or four years later after King left Georgia, the woman procured a divorce, and she later remarried.