DeSoto County
We find Fort Ogden in DeSoto County, a county comprised of 639 square miles of land in central Florida; a part of the state also known as the Florida Heartland. DeSoto County is located at Florida´s tropical – humid subtropical line.
The largest city in DeSoto is Arcadia, which in 2020 was home to approximately 7,400 of DeSoto´s total population of slightly less than 40,000 people.
Name
DeSoto was named after the Spanish explorer Hernando DeSoto, who anchored in Florida´s second-largest bay (present-day Charlotte Harbor Estuary) in 1539, and from there explored the region on behalf of the Spanish crown. After making his way up the coast, he eventually reached present-day Manatee County and went inland from there.
Cities & Communities in DeSoto
There is only one city in DeSoto, Arcadia, which is the county seat and home to approximately 7,400 people (estimation for 2020). There is also the census-designated place Southeast Arcadia, and the unincorporated communities Brownville, Fort Ogden, Hidden Acres, Hull, Lake Suzy, and Nocatee. Liverpool and Pine Level are no longer inhabited.
Getting to DeSoto
The public-use airport serving DeSoto County is the Arcadia Municipal Airport.
Major highways
 Interstate 75
 U.S. Route 17
 State Road 31
 State Road 70
 State Road 72Note: A short part of I-75 runs through the south-western tip of DeSoto County, but it has no major connection with the rest of the highways within DeSoto.
Waters
The Peace River flows through DeSoto County, and one of its river crossings is in Fort Ogden (CR 761). This river originates where Saddle Creek and Peace Creek meet in PolkCounty, and from there flows south, passing settlements such as Fort Meade, Bowling Green and Arcadia along its way to the Charlotte Harbor Estuary where it empties into to the Gulf of Mexico. U.S. Highway 17 runs near and somewhat parallel to this river for much of its course. Every day, the Peace River supplies over six million gallons of drinking water to people in the region.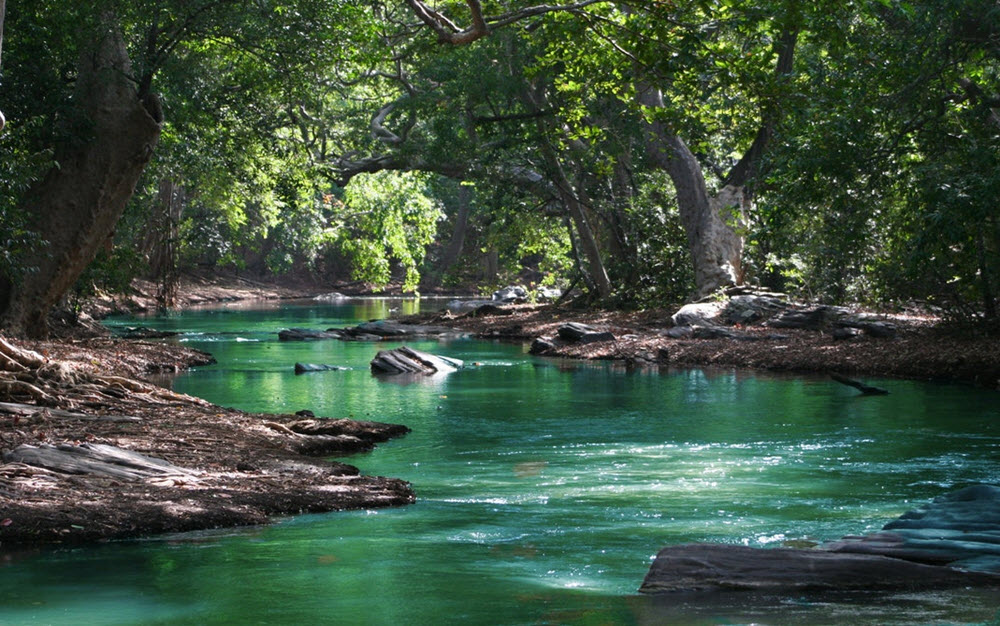 The largest body of water in DeSoto County is the man-made reservoir inside the RV Griffin Reserve. This is a protected reservoir and not open to the public.
Sour Orange Lake is the largest natural lake in the county. Coordinates: 27°07'23.2″N 81°39'07.0″W. Other notable lakes in the county are Lake Operation and Split Lake.
Highest point
DeSoto County´s highest point is at 96 ft and located on the border between DeSoto County and Highlands County, roughly 3 miles south of the Hardee County border.
Local media
Local radio
There are two local radio stations licensed to locations within DeSoto County:
WCXS (1480 AM Classic Country)
WZSP (105.3 FM La Zeta – Mexican)
WCXS is based in Arcadia, and used to have the call sign WFLN until March 2020. Previously, this station included quite a lot of talk radio and news, but today it is focused on country music. WZSP broadcasts a regional Mexican radio format from studios and offices in Sarasota, Florida, but is licensed to Nocatee and serves DeSoto County. The transmitter is on Arcadia´s Addison Avenue.
Local television
DeSoto County falls within the Fort Mayer/Naples designated market area, and almost all stations broadcasting from Fort Mayers and Naples can be picked up throughout DeSoto County. It is normally also possible to see broadcasting from Tampa, St. Petersburg and Sarasota in the county.
The low-power local television station WALM-LD is no longer active and it´s license was cancelled in 2020.
Newspaper
There is no local newspaper exclusively for DeSoto, but the Charlotte Sun covers south-western and central Florida, and includes a section dedicated to DeSoto County. This section is named The Arcadian, but covers news from throughout the county and not just the city Arcadia.
Locally, The Arcadian is offered as a standalone for residential delivery.