The ghost town Liverpool, FL
Founded as river dock town on the Peace River in 1880, Liverpool turned into a ghost town when the mining in the area declined in the early 1900s. Also, the new railroad extension to southern Florida made Liverpool less important, and commerce began to favour Fort Ogden – located just three miles to the north – two factors which further hastened Liverpool´s downfall. Today, the main visible signs of Liverpool ever having existed are some moss-covered foundations of phosphate drying bins.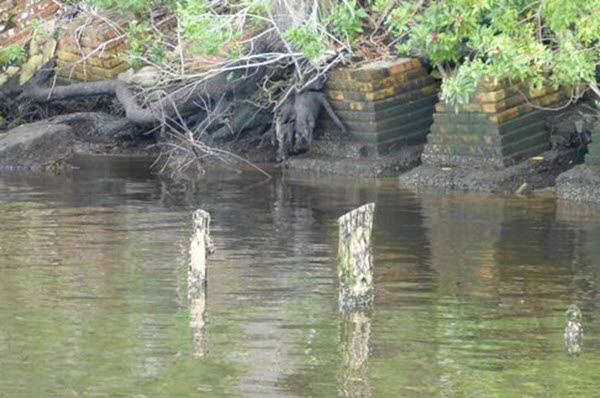 Liverpool, FL was funded in 1880 by the English immigrant John Cross, who named his new town after the vibrant port town Liverpool in England.
When phosphate mining took off in the area in the 1880s, Liverpool flourished as mined phosphate was loaded on barges in Liverpool to be transported on the Peace River all the way to Charlotte Harbor. Notably, Liverpool was also at the Peace River Mining Company Railroad's southernmost tip, and Fort Ogden – then a vibrant center for citrus groves – was just three miles away.
During Liverpool´s heydays, it had docks along the river, a post office, a hotel, and a newspaper, and John Cross operated the town´s general store. (Liverpool´s postal service was discontinued in 1895.)
In the 1890s, a man named Bill Simmons owned two 40-ton stern-wheel steamers ("Emma White" and "Lilly White") which he used to transport supplies and passengers up Peace River to Liverpool, where they were met by 13 ox-drawn wagons owned by John Cross. Notably, the same Simmons owned a general store at Fort Ogden. Oxen were the preferred transport animal in south-western Florida as the time, as they fared better than horses and mules in the Florida heat and the muddy conditions of the rainy season.
The area around Liverpool began running out of suitable phosphate deposits in the early 1900s and by 1905 the town was in serious decline. When the railroad system in Florida was extended further south to Punta Gorda and Boca Grande, and commerce began shifting to Fort Ogden, it sped up Liverpool's decline.
By the 1920s, Liverpool, FL was not inhabited anymore.
John Cross – one of the forgotten pioneers of southern Florida
After founding Liverpool in 1880, John Cross went on to invest in Charlotte County were he became a successful entrepreneur, but today, few people are aware of him and the role he played in the shaping of southern Florida´s economy. He lived to be 72, and died on January 15, 1948.
John Cross was from England, but with a neck for the exotic. While still fairly young, he owned a coffee plantation in Bombay, India. After divorcing his wife, he moved to Florida in 1880, leaving his son Harry with his ex-wife in India. When Harry turned 15, he joined his father in the United States, where he graduated from the Tulane University in 1907.
The Fort Ogden connection
Exactly why John Cross decided to move to Florida remains unknown, but it is possible that he was attracted by the rapid expansion of Florida´s lucrative citrus farming sector, for which Fort Ogden was an important centre. What we do know is that he selected property at the Peace River just three miles from Fort Ogden to establish his new town. Cross soon built a river dock and a warehouse, and started a drayage line. Early on, he established a transport route with Fort Ogden – he would bring goods from boats docking in Liverpool to Fort Ogden, and return to Liverpool with crates of citrus fruit that could be loaded onto the boats.
Selling real estate
A year after settling in Liverpool, John Cross became a local agent for Hamilton Disston, a land investor who owned four million acres of swamp and overflowed lands and wanted to sell some of it. Hamilton Disston had purchased the largely undesirable land from the near bankrupt State of Florida for 25 cents an acre, and now wished to sell parts of it to raise enough fund for his next bit project – to drain the Everglades and turn it into an sugar cane plantation.
Things were looking good for John Cross, and on October 21, 1881, he married Margaret J. Maggie. Together they had a daughter, whom they named Fairy.
Liverpool grows
According to the Florida State Gazetter of 1886, 60 people lived in Liverpool in 1885, mail arrived on Mondays and Thursdays, and the town was served by semi-weekly stage coach runs to Fort Myers ($1 fare) and Bartow ($7 fare).
Notably, the Gazetter also mentions that John Cross is the postmaster of Liverpool and proprietor of a citrus business newspaper called The Orange Grove which comes out four times a year. There was also a hotel in Liverpool at this point – The Orange Grove Hotel – and it was owned by John´s wife Margaret.
Examples of other businesspersons who were listed in Liverpool at this time:
Furniture manufacturer John De St. Croix
Music teacher Miss Lizzie De St. Croix
Jeweller James D. Bergstrom
Mail contractor F.C. Boggess
Concerning real estate, the Gazetter wrote that unimproved lands sold for $10 an acre, while improved lands (with citrus trees and/or buildings) sold for $50 – $500.
John Cross leaves Liverpool for Arcadia
John Cross is believed to relocated from Liverpool to Arcadia circa 1891, because in a January 1894 court case (State of Florida vs. Charlotte Harbor Phosphate Company) he testifies that he has lived in Arcadia for the past three years, and that he lived in Liverpool for 10 years before that.